Time to Rally Around Riesling
Written by Alan Whykes on October 3, 2020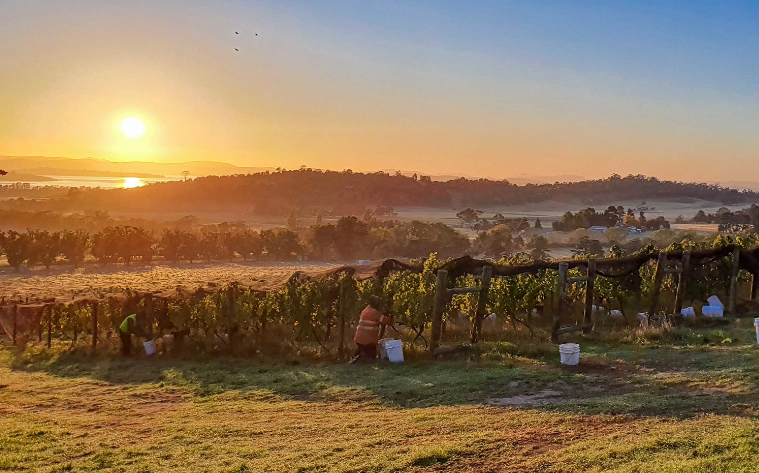 Tasmanian Riesling.
It's become one of the success stories of this state's cool climate viticulture, and it's not hard to see why when you taste the superb quality of the wines that have collected trophies and gold medals at recent Tasmanian Wine Shows.
What's hard to swallow is that Riesling – regardless of where it is grown – receives so little support from Australian consumers.
According to Wine Australia's National Vintage Report, Riesling production in Australia this year fell by 28 percent when compared with 2019. Indeed, apart from Pinot Gris and Glera (Prosecco), all of the country's major white varieties produced smaller harvests. Much of that can be attributed to adverse weather events and bushfire/smoke damage.
Sure, supply and demand are not the same, but Riesling's production decrease was the biggest fall for any white wine grape, slashing its total tonnage nationally to just under 17,000 – the first time since 2001 the figure has fallen below 20,000 tonnes.
At its peak in 2005, Riesling accounted for more than 40,000 tonnes of Australian wine grapes, the report notes.
In 2020, Riesling in Tasmania accounted for barely 5.5 percent of the state's wine grape harvest of 12,308 tonnes. It's not the lowest proportion we've ever seen, however. The variety supposedly bottomed out in 2013 when barely 5.1 percent of our wine grapes came from Riesling vines. In 2019, the figure was only 5.7 percent. In 2018, it was 5.9 percent. Even a decade ago, Riesling's share of Tasmania's annual grape crush amounted to a miserable 8.0 percent.
A quarter of a century ago – before major plantings of Sauvignon Blanc and Pinot Gris – the variety in Tasmania played second fiddle to Chardonnay.
To add insult to injury, Riesling grown in Tasmanian vineyards nowadays, on average, fetches a higher farmgate price than in any other part of the country. In 2019, the figure topped $3000 per tonne, ensuring our Riesling that year accounted for almost 10 percent of the total value of Tasmania's entire crop.
We've fallen out of love with Riesling, it seems. The reasons are many and varied but are expressed most succinctly by Wine Australia itself.

"In common with Rieslings from around the world, Australian Riesling has had to battle to endure," the Australian Government statutory body states.
"It has had to be finer in quality than its peers in order to overcome negative preconceptions, lower in price than its quality warrants and be championed by illustrious winemakers in a way that Chardonnay or Sauvignon never have."
Time for a change.
Now that spring is with us, Tasmania's Rieslings are an ideal choice for alfresco entertaining. It doesn't matter whether you're greeting guests, watching the sun go down, or lighting up the barbeque, no other white grape variety comes close to being as versatile.
Riesling table wines come in a wide variety of styles, from bracingly acidic and bone-dry to opulently sweet and fruity. Somewhere in between are the marvellously rich, bottle-aged wines with their hallmark flavours of honey and lightly toasted bread.
Riesling aromas typically evoke descriptors that include green apple, floral, citrus, or honey notes. Wines produced from the coolest parts of the State – or from especially cool seasons – might also be redolent of lightly scented talcum powder. Meanwhile, hot, dry seasons, sunburnt grapes, or prolonged bottle ageing give rise to trimethyl dihydronapthalene (TDN) aromas which produce complex, elusive wine characters that are somewhat kerosene-like in nature.
Crisp acidity and low to moderate alcohol (say 11.5 per cent to 13.0 per cent by volume) keep Riesling wines clean and fresh in the mouth, even sweeter versions. They also underpin one the variety's greatest assets – its capacity to improve with medium to long term cellaring.
Fancy something different?
Some Tasmanian producers like Moores Hill and Moorilla create sparkling wines from Riesling.
Wind back the clock 13 years and it was the quality of our Riesling that in part contributed to Canadian winemaker Conor van der Reest accepting David Walsh's call to join him at Moorilla to 'overhaul the winery, revive the vineyards and make stupendous wines.'
"Tasmania's climate on the whole really puts it among the top wine regions of the world, especially for Riesling," van der Reest remarked on arriving here in 2007.
"The greatest challenges are the things that are beyond your control, like frosts and hailstorms. But I'd rather work in a cool climate wine region and have to deal with its consequences than deal with grapes picked at 40 degrees and having the fruit already cooked out of them.
"The wines here are so elegant and pure. That stays with them forever."
Amen to that.
La Niña alert
With Australia's small army of winegrowers now witnessing new buds bursting into life all across the country, the prospects for vintage 2021 are already weighing heavily on the minds of those that experienced especially difficult growing and ripening seasons last year.
Last month saw Australia's Bureau of Meteorology release its latest climate outlook overview and the news was a mixed bag for growers. It states the remaining months of 2020 are likely to see above average rainfall across the eastern two-thirds of the country. Northern and eastern Tasmania in particular have a greater than 75 percent chance for this to occur during the October to December period. Beyond that is a level of uncertainty.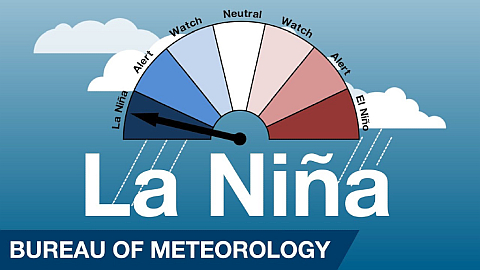 On September 29, the Bureau declared its ENSO Outlook had been upgraded from a La Niña Alert status to an . That means the large-scale changes in tropical Pacific Ocean temperatures and weather patterns are likely to continue until the end of 2020. These phenomena are commonly associated with above average rainfall in Australia during spring and early summer.
Recent La Niña years include 2010-2012, 2008-2009, 2007-2008, and 1998-2001. Indeed, the years 2010 and 2011 were the third wettest and second wettest on record for Australia and combined to produce the country's wettest 24-month period on record.
In the far south-east of Australia – including all of Tasmania – daytime temperatures are likely to be warmer than average during October to December as well.
The combination of warm and wet growing conditions during spring and summer is likely to promote an abundance of vegetative growth in Tasmanian vineyards. Such conditions will create their fair share of sleepless nights for vineyard managers as they face challenges of heading off possible outbreaks of powdery or downy mildew around year's end.
---
ADVERTISEMENT   –   ADVERTISEMENT   –   ADVERTISEMENT

---
Hobart's Mark Smith wrote his first weekly wine column back in 1994. Now more than 1700 features and 25 years later, he continues to chart the successes of Tasmania's small scale, cool climate wine industry with regular contributions to some of Australia's leading industry publications.
---
PICK OF THE CROP

Mark gives you his honest opinions about the best wines available right now from Tasmania's wine makers.
2019 Roslyn 1823 Tasmania Riesling $30
Roslyn 1823 is a relatively recent venture established in the Coal River Valley by Andrew and Esther Palmer and family. Located near Campania, the dry, sunny site seems well suited to Riesling. This current release wine is a powerful youngster, brimming with vigour and intensity. Its mix of floral and grapefruit elements are both engaging and surprisingly generous at this early stage of the wine's life. Delicious somehow seems too trite, but that's it to a tee. Meticulous vineyard management along permaculture lines suggests we're going to hear much more of this new producer. www.roslyn-1823.com

2019 Pooley Riesling $39
Increases in vineyard area and vine age have spurned an impressive portfolio of Pooley Rieslings in recent years. It comprises four wines spanning price points from $39 to $75, a feat deemed unthinkable for a Tasmanian producer just a few years ago. While the Margaret Pooley Tribute and single vineyard releases are very smart indeed, this blend created from the family's Butcher's Hill and Cooinda Vale sites is also a lovely wine with ready drinkability. Dry and juicy in the mouth, it has a richness that is already quite beguiling. Take it to your favourite Asian eatery. www.pooleywines.com.au

2018 Ninth Island Riesling $25
Pipers Brook Riesling has been an industry flagship since 1979. Under ideal cellaring conditions, these wines can improve for more than a decade. Kreglinger's Ninth Island brand is no slouch either. The 2019 topped its class at the 2020 Tasmanian Wine Show and has many years of consumer enjoyment ahead of it. This 2018 wine was a recent $15 retail purchase and displays the first signs of bottle development. There are green gold tones in the glass and preserved lemon flavours showing a hint of kerosene. It's archetypal dry Riesling on a budget. Enjoy to 2025. www.kreglingerwineestates.com

2019 Frogmore Creek Iced Riesling 375ml $34
In Australia, we think of late-picked sweet wines going hand in hand with fruit and cheese platters. But in France's Bordeaux region, many celebrated wines of Sauternes are frequently served chilled as an aperitif instead. What a great idea. This charming little sticky from Frogmore Creek would be a prime candidate for beginning the practice in Tasmania – on its own or with a rich pork terrine. Its intense, limey passionfruit flavours appear only moderately sweet, thanks to well-balanced acidity that keeps the wine dancing across the palate. Once opened, the wine should keep a week in the fridge. www.frogmorecreek.com.au
Correction: An error was made in the price stated last week for 2014 Grey Sands Pinot Noir. The price should have been $60 per bottle. Our apologies to owners Rita and Bob Richter.
---
ADVERTISEMENT   –   ADVERTISEMENT   –   ADVERTISEMENT
This article was originally published in the Tasmanian Times and was reposted with permission.
---
Reader's opinions
---