Unions Survey Indicates Preference for 'Worker-Centred' Recovery
Written by Alan Whykes on September 14, 2020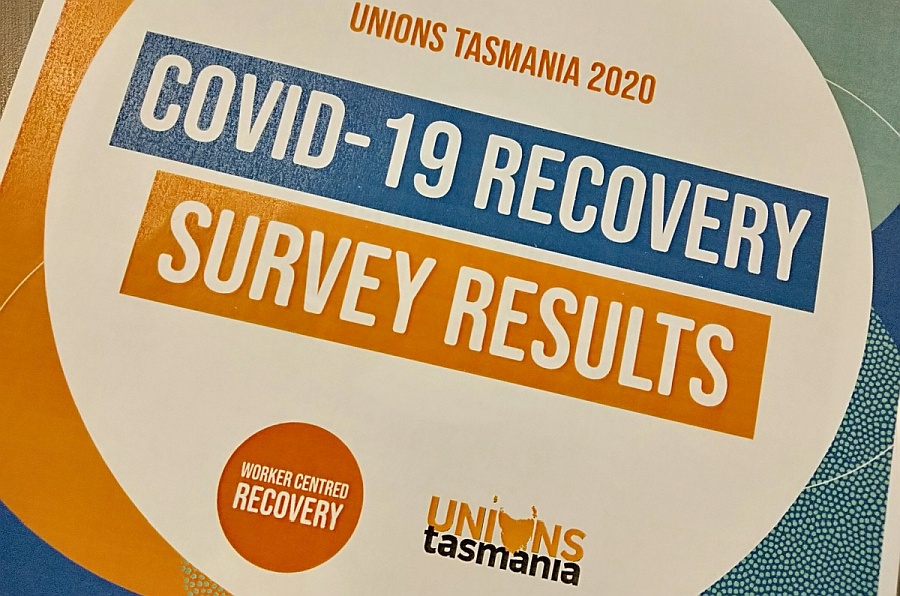 Respondents to a Unions Tasmania survey strongly indicated they want to see an inclusive recovery plan that invests more in public services, targets sustainable new jobs and addresses both economic and social inequality in Tasmania.
Nearly 2,000 workers completed the COVID-19 Recovery Survey, conducted between June and August 2020, which asked workers across the state about COVID-19 pandemic impacts, and priorities for Tasmania's economic and social recovery.
The survey findings also indicate that more secure jobs and decent pay remain priorities for workers who see these as critical to supporting recovery.
Key results from the survey:
• Close to 60% of workers want investment in more public services.
• 74% want a multi-faceted plan that supports all workers.
• 83% of workers want an inclusive recovery to address social and economic inequality.
• Increased workload and work stress are the top 2 ongoing job impacts for those still employed.
"Workers have kept supplies moving, our communities safe, kept businesses running, carried out vital public services and saved lives throughout this pandemic. They have now clearly told us their priorities for recovery," said Unions Tasmania Secretary, Jessica Munday.
"Workers are saying that they need a multi-faceted recovery plan that delivers for them in terms of jobs and working conditions, that gets services to people and makes it a priority to tackle inequality." She said that workers need to have secure jobs and decent wages so they can continue to spend in the local economy and support Tasmanian businesses.
"Tasmanian workers overwhelmingly told us they don't want to return to the old 'normal'. In the months and years ahead, we will be advocating for a worker-centred recovery that creates a better Tasmania," said Munday. "We see really clearly the impacts of the pandemic here on sectors like tourism, hospitality, areas of retail, we also see it in demographics like young people and women that have been disproportionately hit. So if we're going to target stimulus and spending as the government should, we need to make sure we're looking at all of those options, both short and long term."
Munday acknowledged that the state government has been constructive in talking to unions through the pandemic, and that's something that Unions Tasmania value.
"So we'll be taking the results to them and using that to keep the conversation going. I think they are genuine, about wanting us to succeed. And for workers to succeed. What we'll be asking is, and saying is you need to do something different if you want that to happen, though. And so the things that have, you know, we've relied upon in the past, you know, single sector investment, it's not going to be enough, you're going to have to do more."
Simon Davis, a hospitality worker in table gaming at Wrest Point, said insecurity was still a problem in his sector.
"Our experience has been about the nature of insecure work and the plight of migrant workers who have no safety net, and no job security in a lot of cases," he said. "They live in our communities, they work with us. They're raising families here. They pay taxes here, but they've been completely left behind in the pandemic."
According to Davis, one of the key factors in them becoming an "underclass of particularly disadvantaged workers" was because of ineligibility for JobSeeker and JobKeeper. "And not only do they not have the support, because they're effectively competing with workers whose wages are being subsidised by the government, it's made it even harder for them to actually support themselves through work. And this crisis has really exposed just how vulnerable these people are."
He considered that hospitality was recovering, but not fully.
"A lot of hospitality businesses are recovering because they're open again and the pokies are back on," said Davis, "so they've got the revenue coming in.

But the thing about pokies is, they bring the revenue in; they don't create all that much work though."
"A lot of the businesses are no longer eligible for JobKeeper, but the workers aren't necessarily getting their shifts back. So we need investment in tourism and hospitality in all the other areas."



Public health care worker Sarah Creighton said the health sector still required  more funding.
"It is no secret that the public health care system in Tasmania has been struggling, even before the pandemic," she said. "And I guess what this survey has highlighted is the sentiments that I've been hearing from my colleagues, which is that we do need a greater investment in public services. We need more to be able to continue to do more for our Tasmanian community… we are always being asked to do more with less."
Labor Leader Rebecca White said the Unions Tasmania survey highlighted flaws in the government's approach.
"There are 63,000 Tasmanians and 15,000 Tasmanian businesses in receipt of JobKeeper," she said. "JobSeeker and JobKeeper will be wound back in just two weeks and yet Peter Gutwein still doesn't have a comprehensive plan for jobs."
She said Tasmanian workers want investment in good quality services, they want secure work and they want a government that has a plan for the jobs of the future.
"The old normal of insecure work, stagnating wages and under-resourcing of skills and training is holding our state back. Tasmanian workers have spoken and this government needs to listen. It can't bury its head in the sand and pretend that everything will return to normal, because the old normal was failing too many Tasmanians."
Read the COVID-19 Recovery Survey.
This article was originally published in the Tasmanian Times and was reposted with permission.
---
Reader's opinions
---